Dear Noah,
I hate you.
I hate the memory of you.
I hate the color of your eyes and the image of your face that's stuck inside my head. No matter how hard I try, I can't forget you.
I hate that damn cottage. I hate that I can still smell you when I go in there, and I wish I could burn it all to the ground.
I hate that I kissed you that night. I hate that I can't go back in time and stop myself from doing it. That's how it all started, with a simple kiss. A stupid kiss. A moment that ruined my life.
I hate the letter you left me.
I hate that I sat around for weeks waiting for you, hoping you'd come back. But you never did.
I hate that I miss you. You don't deserve it.
I hate that you were right. You hurt me just like you said you would.
And I hate that, even though you broke my heart…I'll never forget you.
Ever.
Not all my love,
Sienna
Now this is the Bella J I fell in love with. I devoured this book. Which isn't much of a surprise because generally Bella tends to write really short books (by my standards anyway). If you read my reviews of every book of hers I've read, that the common theme of my complaints: the book is too short.
Anyway, we pick up where we left of with book one. Sierra is devastated by the disappearance of Noah. She is barely holding on. And it seems life has got it in for her at the moment, because just as she thought she could survive her ex, Noah vanished and now she has another blow dealt to her that she can't even fathom. But I have to give her credit, our girl picks herself up when she realises, she's got no choice.
Just when she finally feels like she might have it in her to pick herself up, Noah resurfaces. And back into the dark pit of despair she goes.
I really enjoyed this book. I loved the emotion that was conveyed from the first page. You could feel Sierra's heartbreak seeping through the pages. And when she finally came face to face with Noah, the argument was fire; realistic. Noah is the king of grovelling and I especially loved how Sierra stood firm against her heart's desire and didn't become a dumb bitch. She used her head and made that asshole work for her forgiveness. I was here for it.
From page one I felt like I was reading a 5* book…until we got to chapter 21. When I got there, I realised I had only 5% or so left of the book and I figured the author must have changed her mind from a duet to a trilogy because there was no way on God's green earth that the book would end like this. But alas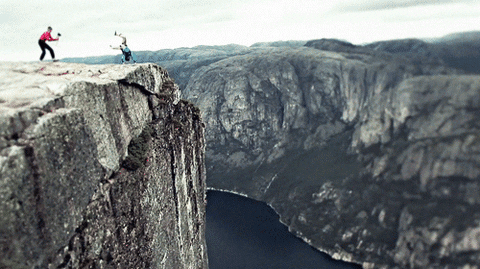 The abrupt ending blew my mind. Left me with so many questions. Her father didn't know anything, her argument with Spencer might as well have not happened. I mean what the hell? It just ended. That really annoyed me because I ruined an epic book. I wanted to see the aftermath of plan B. the running, the hiding, the terror. Everything. What would her brothers say? Her father? Considering the whole premise of the book was based on Noah's past, I wanted to see it catch up to him, see them fight the enemy, fight for each other, for their lives. For the storyline to come to an end naturally. Not just fall off a cliff somewhere.