Not all love stories are written the same way. Ours had torn chapters, missing paragraphs, and a bittersweet ending.
Luna Rexroth is everyone's favorite wallflower.
Sweet.
Caring.
Charitable.
Quiet.
Fake.
Underneath the meek, tomboy exterior everyone loves (yet pities) is a girl who knows exactly what, and who, she wants—namely, the boy from the treehouse who taught her how to curse in sign language.
Who taught her how to laugh.
To live.
To love.
Knight Cole is everyone's favorite football hero.
Gorgeous.
Athletic.
Rugged.
Popular.
Liar.
This daredevil hell-raiser could knock you up with his gaze alone, but he only has eyes for the girl across the street: Luna.
But Luna is not who she used to be. She doesn't need his protection anymore.
When life throws a curveball at All Saints' golden boy, he's forced to realize not all knights are heroes.
Sometimes, the greatest love stories flourish in tragedy.
Series: All Saints High #2
I've read quite a few books by Ms Shen, if not most and I have to say this is probably the most intense of her writing I've ever read. But I have to admit, I still remain partial to Vicious. I had been anticipating this book like you wouldn't believe. As soon as it hit my kindle I binged on it like Ms Shen was cutting me a check.
"I will always be in the right headspace to be inside you. You're my home."
We first met Knight and Luna in Pretty Reckless and Knight has now grown into an angry, resentful, self-destructive, sexy, broody young man. Having difficulty facing the tragedy that is looming over his family, Knight resorts to destructive measures to cope with it. For a long time, he's known as the ladies' man at All Saints High.  6'3" block of muscles and the football quarterback, girls trip over themselves to get his attention. But his heart, mind and body are only ever reserved for one girl; Luna.
There's a familiarity that draws Knight and Luna together, apart from their fathers being best friends; the tragic stories concerning their mothers. Luna's mother has done a number on her, leaving her mute by choice. Knight has always been her protector and her strength. But when Luna makes the decision to move away, she sets forth a series of events that may well be the start of the end of their friendship.
Let's pause here for a second;
Who in their right mind, does that shit Luna did with Josh just to spite another motherfucker?! Really? I get she was hurt and shit but fuck me
Anyway, as I was saying; their bond has always been undeniable and unbreakable. But for their life of me, their emotional immaturity was undeniable too. I kept having to remind myself that these were just kids. So when they finally decided that they wanted to explore a romantic relationship, my reaction was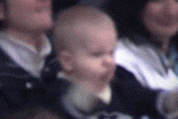 But rather than telling each other this, they do it the hard way. Every time one of them gathered the courage to do something about it, the other fucked something up. But in true teenage dumbass form, rather than confront and talking about it without tearing strips off each other, the one that got hurt went on a revenge spree. The miscommunication was maddening after a while I thought
And alas, they did. Just when I was celebrating that they've finally got their dumb asses together, tragedy hit, sending Knight into a self-destructive spiral. There is no denying the chemistry between these two. The story was a heart-breaking, slow torture that ripped you apart and put you back together. I LOVE LOVE LOVED that we got to see their parents that we loved from the previous books too. Did I mention I'm in love with Vicious? I did however feel like after Rosie's death things started to speed up a bit. I would have loved to experience a bit more of the struggle of moving on. How Dean reconciled with Dixie appearance etc. she seemed to have just seamlessly fit without causing any waves. But I hope there is a book surrounding these two that can elaborate more on this.