An explosive new novel of love, lies, and obsession from bestselling author J.T. Geissinger.
Five years ago, my fiancé disappeared. He left me with a wedding dress I'd never wear. Left me with the kind of scars that can't be healed. The man I built my future on vanished like a ghost. All that remained were my broken heart and unanswered questions.
Until a mysterious stranger arrives in town.
Tall, dark, and dangerous, Kage is as full of secrets as he is sex appeal. Though I know he's hiding something, I'm drawn to him like a moth to flame.
The intensity of our connection is addictive, unlike anything I've ever felt before. Heat crackles between us with every look, desire flares into passion, and I fall hard, unable to resist.
But when I discover how he's tied to the darkness in my past, I learn what happens when you fly recklessly into fire:
You get burned.
Series: Queens and Monsters #1
I have to tell you, the last 3 books by this author have given more book boyfriends I know what to do with. I thought I loved Liam Black but Kage?
She did the damn thing with this alphahole. I loved him so much much ovaries were quacking throughout the whole book. I mean I was ready to have his fictional babies.
For some reason, I went onto this book blind,and I'm glad, because honey when I tell you I was in it from page one, I mean I was in. The angst, the heartbreak, the anticipation, the sex.
Now…let this be a template of how to write a sex scene. The sex was fire. Homegirl wrote some crazy ass scenes, I might as have been there in the room with them. I was mesmerised from beginning to end. None of this bullshit where the author leaves you fill in the blanks that they had sex.
No. I want every touch, lick and thrust described. By the time it's done, I want to be having the orgasm.
If you're not going to do it properly, then dammit don't bother.
Anyway, I digress. We know how much I love me some dark crazy ass romance with an asshole of a man you want to throat punch and have their babies in the same breath. I loathe nothing more than a heroine who lets that asshole walk all over them. And honey, Natalie was no pussy. While he battled with having to let go of her past, when Kage came into the picture she had no choice but to let him in. She suddenly came alive, and quite frankly, Kage decided he wanted and was having her whether she wanted it or not. I loved how as tough as Kage was, unlike most men of that type, he wasn't afraid of his feelings for her. He probably fell harder and faster than she did. And I was here for it. The only thing that scared him was the secret that he was keeping from Nat. He knew once it got out, it might cost him the woman he loved.
And come out, did the secret. And the grovelling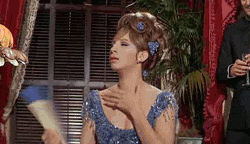 That Kage sure knows how to grovel, I would have forgiven him anything. That David guy sure is an asshole. And Sloane…honestly, I need a friend like Sloane. Everybody deserves a Sloane in their lives.
I loved this book. I laughed, I cried, I swooned, my ovaries exploded. It was a trip. Big bad calculating man fell hard for a woman unexpectedly. His fall was realistic and the anguish in trying to keep his lives separate and his secrets hidden palpable. The fear of loosing his girl made him a little crazy and I just loved how he sure he was of himself that he wasn't going to let her go no matter what. It was everything I hoped it would be, and everything I didn't expect.
Did I mention how hot the sex was?
I have to admit that while I cant wait to read Sloane and Declan's story, I'm a bit bummed because I was rooting for Sloane and Stavros.